Product Summary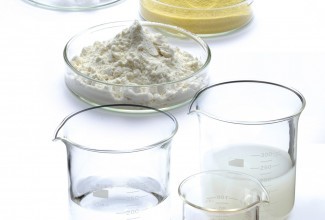 The company has been manufacturing and selling vinyl ethers having a range of functions, from low-boiling point vinyl ethers to polyfunctionalized divinyl ethers. The company started manufacturing in 1984 and remodeled facilities in 1996. As cationic polymerization monomers, the product is used for adhesives, coatings, lubricants, greases, elastomers and others. As copolymers polymerized by radical copolymerization or as reactive diluents, the product is also used for drugs, cosmetics, adhesives, coating agents, fiber finishes, lubricant additives and others. In coating applications, the product is used as raw material for weather resistant coatings and has a good record of use for bridges and exterior wall material of buildings. Based on the handling technique of highly flammable acetylene that has been developed over a half-century, safe and secure operations are provided and stable supply of products is ensured.
Applications
Paints, Ink, Coating, Adhesive, Resist
Features
The product is used as low viscosity and fast curing monomers in cationic polymerization applications, and as low viscosity monomers in radical polymerization applications. Copolymerization components include vinyl chloride, vinyl acetate, acrylic (metacrylic) acids and their ethers, maleic anhydrides, fluorinated olefin (such as F2C=CF2) and others. These polymers provide affinity and plasticity and thereby improve workability, dyeability, strength, flexibility, transparency, glossiness, and others. These can also be offered separately as polymers (under the product name CROSSMER).
Grade
NPVE(n-Propyl vinyl ether) IPVE(Isopropyl vinyl ether) NBVE(n-Butyl vinyl ether) IBVE(Isobropyl vinyl ether) 2-EHVE(2-Ethylhexyl vinyl ether) CHVE(Cyclohexyl vinyl ether HEVE(2-Hydroxyethyl vinyl ether) HBVE(4-Hydroxybutyl vinyl ether) CHMVE(1,4-Cyclohexandimethanol mono vinyl ether) BDVE(1,4-Butanediol divinyl ether) TEGDVE(Triethyleneglycol divinyl ether) DEGDVE(Diethyleneglycol divinyl ether) CHDVE(1,4-Cyclohexandimethanol divinyl ether)
Tel

03-5462-8201
Fax

03-5462-8274
Reception time Reception time 9:00〜12:00/13:00〜17:30
(Except Saturday, Sunday and holidays)
Please feel free to cantact us about our products and service through the contact form or phone/FAX.