Stickers
We undertake graphic printing of decorations for cars,
with our network of five overseas factories
Motorcycles are an indispensable part of the lives in Southeast Asia and elsewhere, as the means of commuting to work and of taking drives. We provide graphic stickers and 3 dimensional emblems that decorates vehicles, and design them in accordance with the culture of the customer's country and the customer's preferences.
We have established factories in Thailand, Vietnam, Indonesia, India, and Brazil, and have worked together closely, allowing them to enhance its productivity. Their technologies are used on a wide range of items, such as cars, agricultural machinery, shovel cars, and electric equipment.
Products
The chief products and technologies that we provide
Graphic Stickers
Uses PVC film for high flexibility, so that it can be attached to curved surfaces. High weatherability and rich color variations.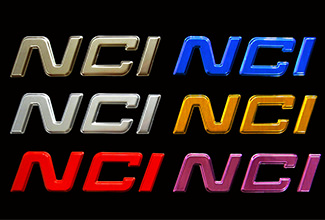 3D-Emblem
Outstanding conformability to curved surfaces. Can meet most requests for variations with a wide selection of colors and shapes. Free-standing letters, that are hard to be molded from resin, can be created.
Needs
Our technology is used on various types of vehicle bodies

Decorative stickers, Emblems, Warning labels etc. for motorcycles, Cars, Large construction machines, Agricultural machines, etc.
Network
A global network with five overseas bases established for manufacturing
Starting with our factory in Thailand established in 1988, we have been building onsite production bases overseas, in order for us to flexibly meet our customers' needs. Presently we have five overseas factories, in Thailand, Vietnam, Indonesia, India, and Brazil. The technology that has been developed and the products that have been created at each of these factories have been shared among themselves, enabling fast product manufacturing at each factory.
Thailand

NIPPON CARBIDE INDUSTRIES (THAILAND) CO.,LTD.

NCI(THAILAND) provides printed products for a wide range of machines, including cars for individual use, commercial vehicles ranging from pickup trucks to large scale shovel cars, and all types of electrical equipment.
Certification obtained: ISO 9001/ISO 14001
ISO 16949/OHSAS 18001

Vietnam

NCI(VIETNAM) CO.,LTD

Motorcycles, which dominate the Vietnam roads. NCI VIETNAM takes on the work of providing decorations with vivid colors for these motorcycles. NCI Vietnam is close to Noi Bai Airport in Hanoi, Vietnam's capital, an outstanding location for quickly conducting business.
Certification obtained: ISO 9001/ISO 14001/UL PGDQ2

Indonesia

PT ALVINY INDONESIA

Indonesia is the country with the second greatest number of motorcycles. PT ALVINY there makes not only stickers but also aluminum construction materials and plastic products that our Group company VINYFRAME INDUSTRY CO.,LTD. offers.
Certification obtained: ISO 9001/ISO 14000

India

NIPPON CARBIDE INDIA PVT.LTD.

At our India factory in a suburb of New Delhi, stickers and labels are produced and sold.
Certification obtained:ISO 9001/ISO 14001 (to be obtained)

Brasil

NIPPON CARBIDE INDUSTRIA DO BRASIL LTDA

Manaus City, Amazonas State, is 5 hours from Sao Paulo by airplane. It is a free port, and companies from all over the world, including Japanese motorcycle makers, have established bases there.
Certification obtained: ISO 9001
Line up
Graphic Print

Emblem
manufacture and sell:
NIPPON CARBIDE INDUSTRIES CO.,INC.
NIPPON CARBIDE INDUSTRIES (THAILAND) CO.,LTD.
PT ALVINY INDONESIA/NIPPON CARBIDE INDUSTRIA DO BRASIL LTDA.
NIPPON CARBIDE INDIA PVT. LTD.
Tel

+81-3-5462-8206
Fax

+81-3-5462-8271
Reception time 9:00〜12:00/13:00〜17:30
(Except Saturday, Sunday and holidays)
Please feel free to cantact us about our products and service through the contact form or phone/FAX.