Ceramic Substrates
Alumina Substrates for LED with High Reflectivity
Electronic and Functional Products (Ceramic Substrates)
Product Summary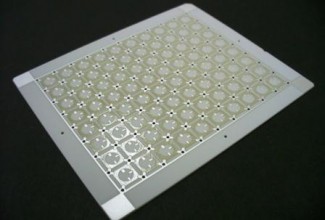 ・LEDs, which have the characteristics of low power and longer life, are hghly expected as the lights of the next generation.
・For higher performance of LED, we developed Alumina Substrates with high brightness and high reflectivity.
・Our substrates enable to utilize the lighting efficiency and expand the possibilities of the LED more in wider.
Applications
LED Light, Backlight unit for LCD, Flash Light for Cellular Phone, Lightning for Automobile, etc.
Type
・High Reflectivity Substrates for COB Type
・High Reflectivity Substrates for Lens Mold Type
Features
・ High reflectivity
・ Co-penetration properties of light
・ Higher temperature resistance
・ Higher heat dissipation
・ Higher reliability
・ Longer life
Regulation/Method
・Base substrate thickness: 0.1 – 1.0 mm
・Available for Various types of Plating (For specifications, please contact us)
Tel

03-5462-8207
Fax

03-5462-8273
Reception time Reception time 9:00〜12:00/13:00〜17:30
(Except Saturday, Sunday and holidays)
Please feel free to cantact us about our products and service through the contact form or phone/FAX.