Special Films
Metal Face (Evaporation Films)
Product Summary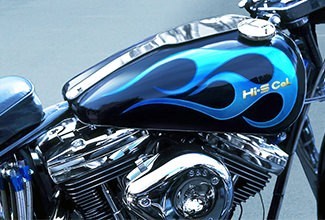 It is a metallized vinyl chloride film that has an excellent (mirror-like) appearance and provides outdoor weather resistance for five years.
Unlike metallized films of other manufacturers, vinyl chloride is used for the top layer, which allows the product to have the flexibility to adhere to the secondary curved surface.
The product can also be printed using screen printing and solvent inkjet printers, etc., enabling it to create decorations with a high quality feel.
Applications
Outdoor and Indoor advertisements, Road traffic and Public signs, Stickers for Helmets and Motorcycles, Chanel characters
Type
Evaporation Vinyl Chloride Films
Features
・Outdoor weather resistance
・Mirror finishing property
・Flexibility
・Printability
・Dimensional stability
Grade
Metal Face Series
(Silver, Gold, Healine, Chrome)
Tel

03-5462-8205
Fax

03-5462-8274
Reception time Reception time 9:00〜12:00/13:00〜17:30
(Except Saturday, Sunday and holidays)
Please feel free to cantact us about our products and service through the contact form or phone/FAX.