Resin Products
Rubber Type Nikalet RCC
Specialty Polymers
Electronic and Functional Products (Semiconductor Mold Cleaner)
Product Summary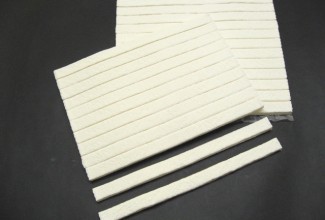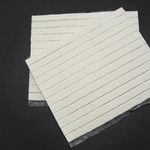 Rubber based cleaning sheets developed for removing the stains and residues of epoxy resin caused during the production.
・Nikalet RCC ID・IE・IJ clean the mold easily without metal mold being detached from machine, leading to an improvement in productivity.
・Nikalet RCC LI is used for the recovery of releasability after the cleaning.
Applications
Semiconductor Mold Cleaner, Semiconductor Mold Conditioner
Features
High cleaning performance
Air vent parts and parting parts can also be cleaned
No lead frames is required
Regulation/Method
(Length x width x thickness)
240 mm X 180 mm X 7 mm
With a 15 mm-wide slit
240 mm X 180 mm X 7 mm
With a 10 mm-wide slit
※ Please contact in case of inquiry of other sizes.
Tel

+81-3-5462-8207
Fax

+81-3-5462-8273
Reception time Reception time 9:00〜12:00/13:00〜17:30 (Except Saturday, Sunday and holidays)
Please feel free to cantact us about our products and service through the contact form or phone/FAX.